A waning moon this morning when I woke up at 04:30 for morning training. Wasn't full, but it was bright enough to cast my shadow on the pavement as I jogged along the Bosphorus shore under the stars. There wasn't quite a frost this morning, but it was chilly enough for me to start out with a windbreaker—which was summarily torn off after the first half a kilometer… Such is the nature of my mercurial internal furnace.
Even in just a tank top and leggings, I was sweating by kilometer 2.
The Bosphorus was feeling the same, apparently. Too hot. As I ran past Reginald, the tall great blue heron who fishes on the waterfront in the same place each morning, I saw steam rising off the water. Cold, black morning punctuated by the twinkle of the red string of lights on the 2nd bridge and, just like the Deep Purple song, smoke on the water.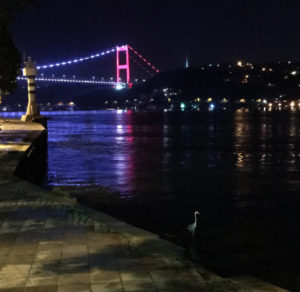 Reginald, as usual, ignored me.
I am extremely grateful to my previous trainer for making morning runs a part of my fitness routine. I get myself up for and hour or so of predawn Rise & Grind 3-4 times a week.
Istanbul in the dark hours of predawn is a phenomenon. The overcrowded, noisy, boisterous city is all but deserted at that hour. Now that the cold is setting in, not even the late night revelers are loitering on Bosphorus-front benches. Just a few fishermen and the mussel divers. My runs are earlier than even the bicyclists and the long distance runners, who are just starting out as I head back to my car.
As I end my run and start my bodyweight exercises, Beyfendi passes by and waves. We have never exchanged names, but the lively 70-something is out there every morning, just as early as I am, with a fast gait and a big smile. I sheepishly admit that some mornings he has well outpaced me!
After my run, it's time for bodyweight exercises in the park, with my buddy, Buffy. Buffy, a dog who lives in the park, is my vampire slayer; she won't let anyone near me. Not that anyone usually passes by, but even the benign street sweeper is not allowed to empty the trash can if I am working out near it. Buffy lets him know.
Countless friends and colleagues think I'm a masochist– foregoing two more hours of sleep just to get up and torture myself with (ack!) exercise. From my perspective, though, it's ridiculous that more people don't try it. Forget the endorphin high you get the rest of the day, it's enough just for the experience of this dark, quiet, magical side of Istanbul.
Cousin Anil who's visiting from Dublin is joining me for training for the first time tomorrow morning. Let's see if the masochism is contagious…