As of January 2016 I was strutting around with a valid motorcyclist license in my pocket like I was hot shit… but I had no bike to ride.
Even the possibility of a bike was far outside my budget at that point.
Anyway, before considering getting one, I wanted more practice just riding,
A) so I would know what type of bike I liked,
B) so I would be more comfortable actually riding a bike home after buying it, and,
C) truthfully, to make sure that The Bike Life was really as good as I had made it out in my mind to be.
Bike life is expensive. And not too safe, if we're being honest.
While my parents were thrilled with me getting back to motorcycles (especially Dad), my husband was far less enthusiastic. Always extremely solicitous of my welfare, he doesn't like the danger a motorcycle presents. I needed to ease him into the idea, while at the same time making sure that I wasn't taking a nostalgic adolescent memory and blowing it way out of proportion.
That's where Sinan came in.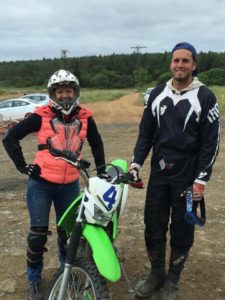 Just as Istanbul's winter was thawing, I found out about MotocrossPark Kilyos, a motorcross/enduro track pretty close to my home. Up on the North shore of Istanbul, set on a beautiful stretch of woodlands overlooking the Black Sea, you could go there and learn (on their bikes) all the techniques of mx and enduro.
As soon as I found out about it, I was there the next day riding. And have been out there at least once–and, if lucky, twice– a week since then, taking lessons either from Sinan or his father, Suleyman. Both have won numerous national mx and enduro titles and have been excellent mentors for me.
As for the riding? This is motorcycling like it was in my teen years. Dirt trails, forest, riding over riverbeds, steep hills, switchback paths… And it was just as good as my memories. Better.
In the first two months I wiped out A LOT. Not too much injury to myself or to the bikes, though some of my wipeouts were truly spectacular. I think my worst day was 12 wipeouts in 1.5 hours. I ate a lot of dirt, metaphorically speaking. Partially it was lack of technical skill, which has improved significantly since April. Partially it was me holding back; I've gotten better about that. And while Travis says there are no excuses in mx, I still partially blame the bike –Kawasaki KLX 150– because once I started riding Sinan's Sherco SEFR250 things became a whole different ball game. Note: My effusive love letter to Sherco is coming soon.
All in all, I had one. incredible. summer.
It was dirty, sweaty, black and blue, and something I had been unwittingly missing for two decades. I totally became a dirtgirl.
There will be no going back.