When I was in primary school, when curses were still so innocent, one of the worst of them was to tell someone, "Your mother wears army boots!" To be honest, I'm not sure why that was considered a bad thing, but all 7-10 year olds at that time thought it was absolutely the worst level of slander.

Even if at that age I, too, said it as an insult to friends, I didn't really think mothers wearing army boots was a bad thing. How could I when my own mother wore motorcycle boots?

Here they are, in fact.
I still have them. I still wear them. I even wore them in my teens when I got my own first motorcycle.

Let me tell you what it means to have the kind of mother who wore motorcycle boots.

She's the one who put the daredevil in me– a gene that runs generations strong in the women of her family. She's the kind of woman, who even now at the ripe age of 77, will try just about anything…which, this past January, meant all the best rides in Disneyworld, from the adrenaline-infused Expedition Everest roller coaster to the Avatar Flight of Passage virtual reality ride, soaring on the back of a Banshee through the Pandoran landscape

When she was still a young college student, she let her wanderlust lead her from New York to California by bus. Unruffled when her budget ran out halfway back to New York, she resourcefully managed to live on crackers scrounged from restaurants til she made it back home.

MY MOTHER THE COMBAT WOMBAT
In her newlywed years, the daredevil in her urged her to follow my dad's lead and start riding. As a valentine's day present to her in 1968, dad got mom her first bike: a Hodaka Wombat. Known as the Combat Wombat. I'm quite sure she never got to the stage in her riding that she was as aggressive as her bike's name, but she fared well enough to accompany him (on his Bultaco Alpina) on long rides through the more rural backroads of Southeast Michigan and follow him out to the track for his enduro trials.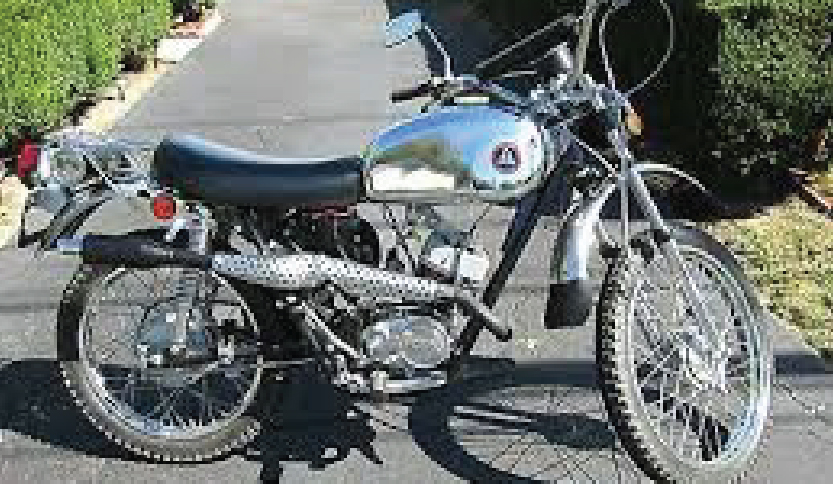 Her riding days would be short lived. She became pregnant with my older brother the following year, and then I came along quickly after.

Even so, she was a rider and risk taker, and she gifted that to me. Always encouraged me to take the "road less travelled". In high school, when I wanted to use the wages I had saved from waitressing to buy a car, her response was, "Everyone does that. You'll always have the chance to buy a car. Why don't you use that money to backpack around Europe?" So I did. I graduated, took a gap year before university, and worked as a chef's assistant in London for six months and backpacked Europe for three months. Thanks to her.

When I first moved to Turkey and had trouble adjusting to my new life, she came to visit in 1997 and the two of us rented a car and road tripped across Turkey together like Thelma and Louise. It's because of that trip that I regained the feeling of control over my life, which allowed me to stay and thrive in Turkey.

Flash forward to present day. She is still my biggest supporter whenever I mention plans for a new extreme sport or new road trip. Now that she's less mobile, she lives her adventures vicariously through me. Now I'm the wearer of the boots. All thanks to her.

"Here's to strong women may we know them. May we be them. May we raise them."